Gila River, New Mexico, biodiversity study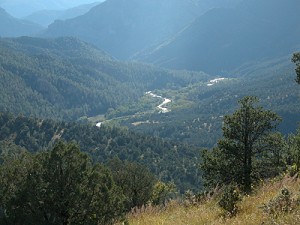 Beginning in 2006, our research team, with funding from New Mexico Game and Fish, undertook a study for of the biodiversity of the Gila River riparian area along the upper reaches of the Gila River in southwestern New Mexico. Our purpose was to document the presence and abundance of many rare species and their habitat in this area. Our papers, based on this field work, discuss the vegetation and habitat of this important river system.
The data from this study are made available for collaborative work (below). Details on the data collection process are available in the Gila River Biodiversity Study Final Report (below). Please contact us if you would like to use them, as we want to collaborate, and you will also need some help in understanding how they have been put together.
Gila River Biodiversity Study Final Report
Gila River Biodiversity Study data [Excel file]
Vegetation and Habitat Along the Gila River
Wetlands along the Gila River in Southwestern New Mexico