A Natural Areas Inventory of Douglas County, Kansas
By Kelly Kindscher, Jennifer M. Delisle, Leanne M. Martin, and Erica Staab Click here to download the full report
In 2014 and 2015, we surveyed Douglas County, Kansas for high-quality native prairies and forests, assessed their ecological viability, and documented losses in prairie acreage since our 2005 survey. We also identified four high-quality forest tracts for special consideration of conservation efforts: Lakeview, Baldwin Woods, and the riparian corridors of the Kansas and Wakarusa rivers.  This project, funded by the Douglas County Natural & Cultural Heritage Grant Program, was conducted by Kansas Biological Survey staff.
Healthy natural areas are primary reservoirs of biological diversity and sanctuaries for sensitive and declining species. They also provide many beneficial services to humans by buffering the effects of pollution, protecting water quality, preventing soil erosion, improving land values, and providing opportunities for outdoor recreation.
We documented significant recent changes to prairie and forest habitats. Although the biggest loss of native habitats occurred within the first few decades of White settlement, this trend has continued. Between 1988 and 2005 29% of the remaining high-quality prairie was lost. This resulted in only 0.5% of the original prairie in the county remaining. The current survey found that an additional 18% has been lost since 2005. Similarly, approximately 88% of the original forest in the county has been cleared at some time. Roughly 82% of the forested areas seen today are "new growth" forests that have developed in areas once occupied by prairie, but typically do not have a high diversity of native plant species.
Presettlement Landscape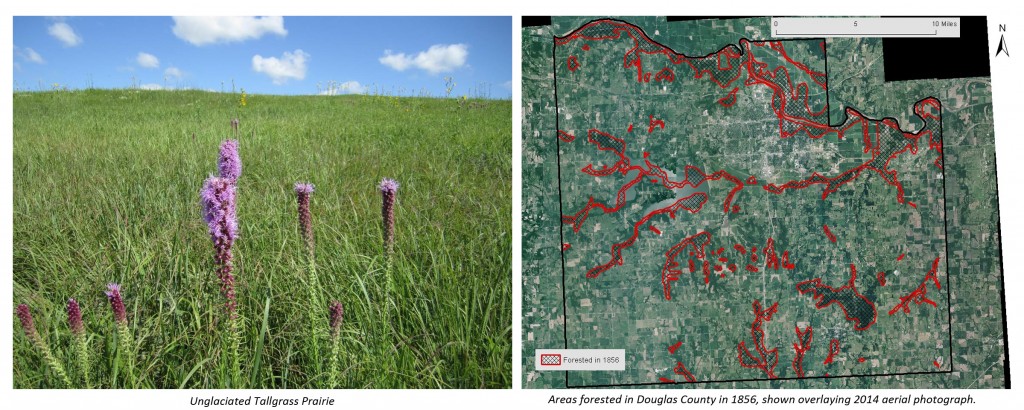 Prior to settlement, the area was inhabited by the Kansa and other Native American tribes. Approximately 87% of the county was originally native prairie, a diverse mix of native grasses and wildflowers, which was primarily maintained by fires either set by Native Americans or started by lightning. The remaining land was primarily forest, but there were also smaller areas of wetland and marsh. Forested lands were limited to places naturally protected from fire with moist soils in riparian areas along streams and rivers, and steep, moist, north-facing, sometimes rocky, slopes such as was found at Baldwin Woods and along the south side of present-day Clinton Reservoir.
Conservative Species
We know that forests that have been clear-cut or significantly altered do not regain their biodiversity (including conservative wildflowers) for many decades, if at all. Therefore, identifying conservative wildflowers during our inventories served as one method to assess whether the forest was likely a historical remnant.
Likewise, the presence of highly conservative prairie plants help us rank the quality of Douglas County prairies.
Conversely, non-native, invasive plants are more likely to establish themselves in disturbed, lower quality sites. Sericea lespedeza (Lespedeza cuneata), for example, was found at seven prairie and two forest sites. Multiflora rose (Rosa multiflora), amur honeysuckle (Lonicera mackii), and Japanese honeysuckle (Lonicera japonica) pose the greatest potential threats to overtake native species in forests if left unmanaged.
Significant Findings
Loss of Native Tallgrass Prairie. We conducted extensive survey work in Douglas County to document all high-quality, tallgrass prairie since 1988. The program found 110 sites in 1988, with a combined area of 1,963 acres. By 2005, 21 (19%) of these prairies had been lost to development, conversion to commodity crop production, or other uses, resulting in a reduction in area to 1,395 acres, a loss of 29% in a period of 17 years. This acreage represents approximately 0.5% of the original 285,158 acres of prairie that existed in the county prior to Euro-American settlement. Through the current survey we have documented the loss of 257 additional acres of prairie since 2005. If the current trajectory continues, today's grade-school children will see all high-quality native prairie in the county disappear during their lifetimes.
Loss and re-growth of forest since 1856. We found that the acreage, location, and condition of forests have changed substantially in Douglas County since settlement. There were an estimated 40,634 acres of forested area in 1856, comprising approximately 13.4% of the county. By 1937, approximately 5,256 acres of the pre-settlement forest had been cleared, and much of the remaining forested acres were likely degraded by hogs and cattle. By 2014 the number of forested acres increased to 45,403 acres, or 15% of the county. However, the forests are not in the same areas or of the same quality as the forests from 1856. Only 8,842 acres of the 1856 forest have remained continuously in forest until today. This indicates that 88% of the historical forest had been cleared at some time.
New-growth forests do not have the same characteristics of the original forests, and have different tree species and understory vegetation. The dominant oaks and hickories have been replaced by shorter-lived trees of lower quality, such as elm, hackberry, honey locust, and eastern red cedar which are adapted to grow where there is more land disturbance and more sunlight. The spring ephemeral wildflowers of the understory have been replaced in many cases by buckbrush, honeysuckles, euonymus, and other invasive or weedy species.
Typically, these areas also do not serve as habitat for many of our rare animal species.
 Causes
Our data show that native, high-quality plant communities (native tallgrass prairie and oak-hickory forest) continue to decline in both acreage and quality. Agricultural operations at the time of settlement resulted in the plowing of prairies and clearing of forests. The loss of these areas now is related to development, but the process leading to their destruction is less direct. For the most part, houses and strip malls are not replacing native tracts of prairie or forests. Rather, it is the speculation for development that changes long-term ownership and management, leading to the eventual destruction of native prairies. Lands in Douglas County are in transition as land owners are growing older, and an increasing number no longer live on the land. Prairies on the west edge of Lawrence are particularly vulnerable due to the westward growth of the city of Lawrence. While development is heavily subsidized through infrastructure improvements, little or no matching funds are allocated for natural area and open space protection.
Four Target Forest Areas: Lakeview, Baldwin Woods, Kansas River, Wakarusa River
Four areas of significance were identified for further consideration in this study: Lakeview, Baldwin Woods, and the riparian corridors of the Kansas and the Wakarusa Rivers. All of these areas contain natural areas and open space, and offer considerable recreation and conservation opportunities. Large blocks of habitat and corridors (wide strips of habitat connecting two separate natural areas) like these are very important to conserving the natural history and biodiversity of Douglas County.
Conclusions and Recommendations
Douglas County should take great pride in its remnants of viable, high-quality prairie and tracts of high-quality forest. These are an integral part of our cultural heritage. They are our last examples of the pre-settlement vegetation and represent the landscape occupied by Native Peoples for millennia. They provide many benefits to the public including flood control, water-quality improvement, recreational opportunities, and aesthetic enjoyment of the outdoors. Our remaining natural areas also provide habitat for some of the state's sensitive and declining species including pollinators, many of which are experiencing severe declines due to loss of habitat. They are also important locally for educational and research opportunities. Businesses and employees are attracted to communities with more amenities such as open space and natural areas. They can also increase property values.
Most of the remaining areas of high-quality native prairie and forest still exist today thanks to the stewardship of their private landowners. Various means exist to encourage good management for biological diversity, including funding through federal and state programs. Conservation easements, buffer areas adjacent to high-quality areas, and habitat corridor restoration, could all be effective tools to protect and improve Douglas County's prairies and forests. Funding for natural area and open space protection should accompany development projects and incentives to balance the subsidies for growth. A comprehensive open space program administered by Douglas County and the City of Lawrence would be an effective way to ensure the preservation of our cultural and natural heritage and the development of recreational amenities for the high quality of life that is desired by the current and future citizens of Douglas County.